Claude Chevalier, president of Chevalier Drilling Co. Inc., is an even-tempered family man whose guiding values are hard to denounce: responsibility, honesty, and kindness. Modesty could also be added to the list: Chevalier stresses that he's president of the 45-year-old water well drilling company only by default. "There are five leaders at Chevalier Drilling," he says, "and each person has a specific focus in the company. This is a tremendous advantage when problems arise because no one carries the full burden."
Chevalier, 46, is speaking of Louise, Mark, David, and Mike, his siblings and co-owners of the Highgate Springs company. Brother Denis is an employee.
Started in 1954 by Roger Chevalier, the family patriarch, Chevalier Drilling provides drilling services and water systems for private residences, farms, businesses, and municipalities in Vermont and upper New York State. Claude explains the three Fs of the business: "First, we find the water. Next, we furnish the water by installing pumps, tanks, pipes, and wires. And last, we filter the water when necessary."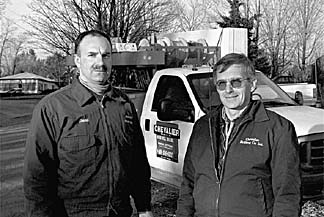 Six members of the Chevalier family have a hand in Chevalier Drilling Co. Inc. in Highgate Springs. David (left) is service manager; his brother, Claude, serves as president.
Finding water is usually not a problem. Chevalier explains 3 percent of fresh water is found in lakes and streams; the rest is underground. "It's very difficult to drill and not hit water in Vermont, as the ground material is very porous here. It's just a question of how deep you have to drill to get it."
Since all drilled wells in the state must be recorded with the Vermont Department of Environmental Conservation, Chevalier Drilling has access to scores of maps that site the location of every well in the state. The maps reveal the location and depth of all neighboring wells, providing the Chevaliers with a sense of where and how deep their new customers' wells should be. "Still, it's not an exact science," cautions the president.
The deeper the well is, the higher the cost. With drilled wells in Vermont running an average of 250 feet and costing approximately $4,000, customers are grateful for Chevalier's honesty.
Pete West, a home builder in Sheldon, has used the Chevaliers exclusively for several years. "I've been involved with companies that drilled extra to make money," he says. "The Chevaliers are honest. When they hit water, they stop."
"I wouldn't consider going to anybody else," insists Paul Bean, owner of Paul's Construction in Essex Junction. "I worked with one company that cheated me blind. They wouldn't even fix the mistakes they made. I can call up Chevalier Drilling day or night, on the other hand, and I know they'll do an honest job and stand by their work. I can't say enough good things about them."
The second of eight children, Claude grew up in Highgate Springs with mother, Jeanne, and father, Roger. "My childhood was happy, but all of us were brought up knowing how to work," he explains.
After high school, he spent a year in the Air Force Academy in Colorado Springs, Colo., but decided to return to Vermont, where he attended UVM. He worked summers at Chevalier Drilling and continued there after graduating with a bachelor's degree in geology in 1975. When Roger died of lung cancer in 1982, Jeanne inherited the growing business and the Chevalier siblings were faced with the decision of what to do next.
Claude, Mike, Louise, David, Mark, and Denis (who later left the business to attend Bible school and has since returned) became co-owners and surged forward. The business grew 50 percent a year the first five years after its founder died, forcing the new owners to work non-stop. They drilled and serviced wells all day and performed sales calls after dinner.
And then, according to Claude, God intervened. "One day in 1986 I was on top of a rig and fell off, shattering my left ankle. I couldn't work for three months, and when I came back I still wasn't ready to do the physical labor."
The Chevalier siblings had a revelation: specialization. Claude would do the sales calls and schedule appointments full-time, allowing Mark and Mike to concentrate on drilling and servicing. Eventually, David began taking over once the well was drilled, ordering materials and arranging the hook-up of pumps and tanks. Louise, the only female sibling in the business, would continue her work as secretary and treasurer, doing bookkeeping and running the office. This is the way Chevalier Drilling has done business since.
There are voluminous state regulations on where we can put a well," Claude explains. "We're required to make sure it's far enough away from the building and the road, and we have to keep it a certain distance from the septic system so that there's no chance of contamination," he adds.
Chevalier checks with customers to find out whether they have any future construction plans and makes sure to place wells in spots accessible to trucks so pumps can be serviced easily. He then gives them an estimate for the job and schedules a day to drill.
Louise Loomis, Claude's sister, explains why her brother is good at what he does: "There are a lot of contractors who are rough around the edges, but Claude has a good way of dealing with people. He doesn't rush them, and he doesn't blow up."
With technological advances like pneumatic jackhammers, which shatter rock with air pressure, wells can usually be drilled in a day or less. When a well doesn't yield enough water, the company uses hydrofracturing, a process that fractures existing rock formations adjacent to the borehole by injecting high pressure water into the ground. As a result, untapped sources of water can be located and a conduit created for them to flow into the well.
"In the past," Chevalier explains, "we would have to drill a second well 20 or 30 times a year because the first one didn't yield anything. With hydrofracturing we end up drilling a second well only once a year or so." Another technological advancement used by Chevalier Drilling is a "down the hole camera," which can identify problems like caving rock and dirty water veins by videotaping images down to 600 feet.
Once the well's drilled, the workers need a second day to hook up the pumping system, and a third if the water requires treatment. At the company's lab, water quality is analyzed for minerals. Chevalier says the water is usually pristine; if it needs treatment, it's usually for minerals in the water, not bacteria.
Pristine it might be, but scarce it was last summer. The intense drought gave Chevalier Drilling its busiest summer ever. For some who had dug wells that might only be 20 feet deep, water was in short supply. Because they are not as deep, dug wells are more quickly affected by weather conditions than drilled wells. "At one point, we had 150 people on our waiting list," states Chevalier, "and every person who called had a good reason why we should service them next. In a situation like that, you need a counseling degree to be able to deal with them."
Though this father of three young adults has no such degree, he possesses invaluable people skills. A born-again Christian who quotes Bible verses like, "A gentle answer turns away wrath," Chevalier has a knack for dealing with difficult people. "It's the strangest thing," he says, "but when you make a concerted effort to take care of the most demanding, least congenial people, they're the ones who recommend you forever."
Louise Loomis (right) is the only female sibling in the business that's looking to expand past the family's capacity. "That's a scary process," says David.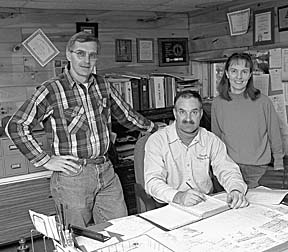 Not surprisingly, Chevalier believes in doing unto others as he would have them do unto him. Not only does he believe it; he practices it. In 1997, Chevalier Drilling was contracted to drill a well for The Country School, a non-profit preschool with a limited budget in Richford.
The job was a fiasco.
"The first well was 700 feet deep and there was no water," remembers Shirley Fletcher, director and head teacher at the school. Since the property's spring had repeatedly gone dry, Fletcher knew a well was the only solution if the school were to remain open. Not knowing how extensive the final bill would be, Fletcher looked on as the Chevaliers drilled a second well, a third and a fourth with no success.
"I didn't know what we were going to do," she says. "I thought we'd be paying the bill for years and years." Claude insisted he would find water for Fletcher's school, the only preschool in town. "Claude got a kick out of the kids," Fletcher recalls. "He appreciated that they needed this place."
The fifth well finally hit water, but the bill had then reached more than $32,000. "We gave Claude $7,500 — all we had," Fletcher explains, "and he marked the bill paid in full. I couldn't believe it."
While Chevalier admits that his company lost a great deal of money on The Country School job, his faith that good deeds done come back around keeps him calm. "Things really do balance out," he muses, "because we've never had a bad year."
While business is good, it is also exceptionally busy. David, the company's service manager and the only person in the state who holds a master certification from the National Ground Water Association, admits to feeling overloaded at times. In addition to the Chevaliers, Chevalier Drilling employs seven others full-time and one part-time. David knows more people are needed if the company is going to grow. "I think we've taxed the limit of the personnel we presently have. I would like to see us move to the next level and hire more management so that managers can concentrate on managing and not have to be out in the field," he says.
David, who is five years Claude's junior, agrees that working with his family is rewarding and fun, but acknowledges decision-making can be cumbersome with five owners. "When you're a family business and you've reached the extent of the managerial capabilities of your family, you have to look outside the family — and that's a scary process," he admits. "That's one thing that can hinder family businesses and prevent them from growing."
"We're all working at 100 percent capacity 100 percent of the time, and something needs to shift," admits Claude. He is not, however, convinced that hiring more managers is the solution. "I think we need more skilled help to allow Dave and me more time to manage."
Unfortunately, because of the specialized nature of the industry, experienced drillers are hard to find. Until they make a collective decision about the future of their growing company, the owners of Chevalier Drilling are going to continue doing what they do best — running an inherently greasy and dirty business the clean and pure way.
Portland Helmich is a free-lance writer who produces programming about alternative medicine for Oxygen Media Inc., a new women's cable television network in New York City.